Špagete a la marinero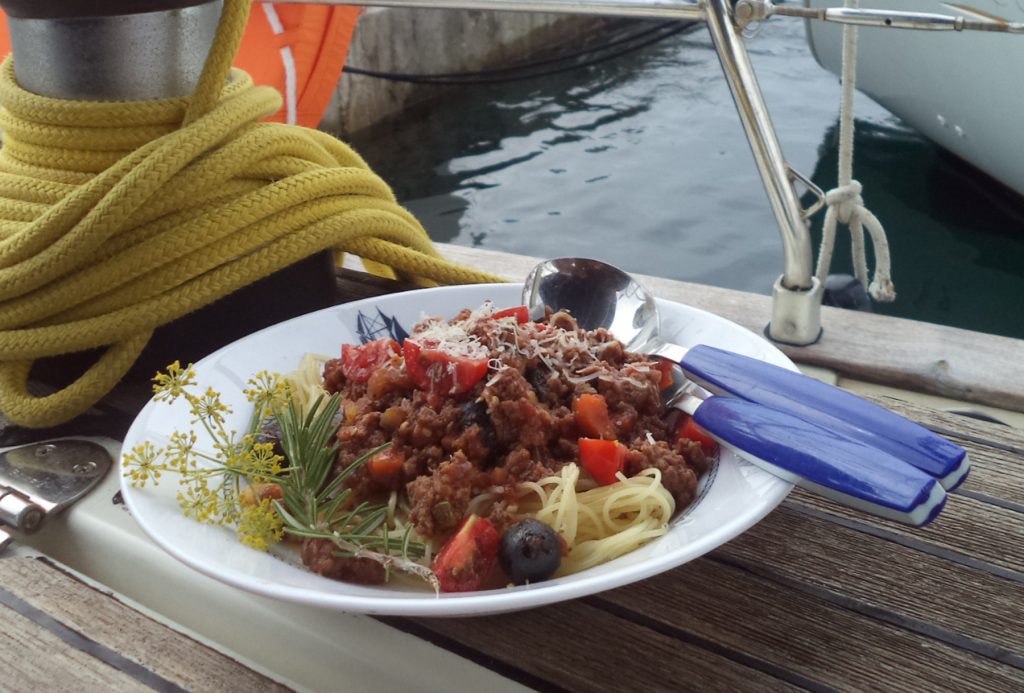 ● 500 g špageta
● 500 g mlevenog mesa
● 2 šargarepe
● 1 patlidžan
● 1 tikvica
● 1 crveni luk
● 1 konzerva pelata
● 2 dl soka od paradajza
● 15 crnih maslina
● grančica ruzmarina
● malo maslinovog ulja
● cvet od mirođije
● malo tvrdog sira
● nekoliko čeri paradajza za dekoraciju
Iseckati patlidžan na kolutove i posoliti da pusti gorčinu. Za to vreme iseckati na kockice ostalo povrće. Na kraju ocediti patlidžan i njega iseći na kockice
Staviti da se kuva voda za špagete. Spustiti ih u kipuću, posoljenu vodu i kuvati prema uputstvu na pakovanju.
Meso smo pržili u tiganju posebno jer smo imali vegeterijanku za ručkom, tako da kada smo odvojili deo povrća za nju, ostatak smo pomešali sa mesom za nas.
U međuvremenu na maslinovom propržiti šargarepu, luk, beli luk, dodati patlidžan. Kada se to malo prodinstalo dodati tikvice i masline. Kada tikvice tek malo smekšaju dodati pelat i sok od paradajza. Dodati na sitno iseckan ruzmarin. Kada to provri, gotovo je, ako je gusta smesa dodati kutlaču – dve vode u kojoj su se kuvale špagete. Trebalo bi da su sad kuvane i špagete, ocediti ih i posuti izmrvljenim cvetom mirođije. Povrće pomešati sa sosom.
Preko špageta sipati sos i narendati malo tvrdog sira i dodati čeri paradajz isečen na pola.
Čaša korčulanskog vino grk prijaće uz ručak.